Vincent Tabak trial: Jury sent home after deliberations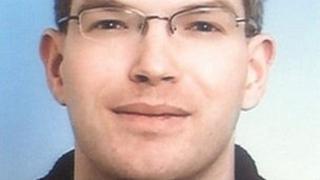 Jurors have been sent home after a second day deliberating whether Dutch engineer Vincent Tabak murdered Bristol landscape architect Jo Yeates.
Tabak, 33, admits manslaughter but denies murdering Miss Yeates in 2010.
Miss Yeates, 25, was strangled on 17 December before her body was left on a roadside verge, where she was found by two dog walkers on Christmas Day.
The jury at Bristol Crown Court was sent out to consider their verdict at 12:30 BST on Wednesday.
They will resume their deliberations on Friday.
Earlier in the trial, the prosecution told the court Miss Yeates, originally from Ampfield in Hampshire, was strangled, during which she sustained 43 separate injuries.
In closing speeches on Tuesday, Nigel Lickley QC told the court Tabak was "dishonest, deceitful and a liar".
However, his defence team said the defendant misread a "flirty" comment and killed her accidentally while attempting to stop her screaming when he tried to kiss her.
William Clegg QC, defending, said the evidence did not support Mr Lickley's claims Tabak had sex on his mind when he went into her flat.