'No plans' to evict anti-capitialists from Bristol green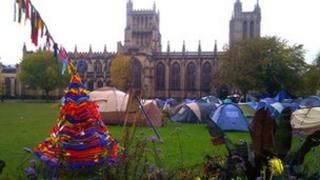 The leader of Bristol City Council has said there are currently no plans to evict anti-capitalist protesters camped out in the centre of the city.
But Liberal Democrat Barbara Janke said this could change if there was violence, criminality, public health issues or damage to buildings.
The demonstrators have been protesting on College Green for nearly two weeks.
The council has provided bins but has refused demands for toilets, running water and postal deliveries.
'No justification'
Ms Janke said she hoped the protesters would be prepared to leave voluntarily once they had made their point.
"I just wish they will acknowledge we've listened to their protests and accept many of the points they've made.
"This is a public space and not a camp site. If there is a danger it would become permanent I think we'd have to take action," Ms Janke added.
Peter Hammond, who is the leader of the Labour group on the city council, supports the camp.
"The position I take along with my fellow councillors is at this point there is no justification for taking eviction action.
"If things can change... then we'll look at the situation again.
"I've spoken to them and they tell me they are amenable to discussion," he said.
Asked if College Green would be cleared in time for Remembrance Day Mr Hammond said the protesters had told him it was "not in their interests" to obstruct proceedings.
"They tell me a number in their group are ex-servicemen and families have lost relatives in recent conflicts," he added.
Earlier this week the protesters called on the council to provide more facilities
Speaking then Guy Poultney, the Lib Dem council cabinet member for neighbourhoods, said he was "adamant" the demonstrators would not receive any more amenities.
"It's a peaceful protest but it is also an occupation and obviously there's a right to a peaceful protest but we shouldn't facilitate making that permanent with tax payers' money," he said.
The demonstrators, inspired by the Occupy Wall Street movement in the US, have been protesting on College Green in the city for nearly two weeks.
The land is owned by Bristol Cathedral, but is maintained and managed by Bristol City Council.