Bristol Council recruits volunteer snow wardens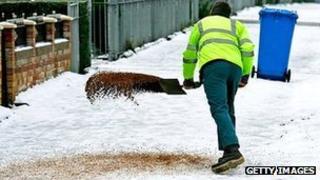 Volunteer snow wardens are being recruited in Bristol to clear the city's 'minor roads, steep hills and tricky junctions' during heavy snow.
The council is planning to recruit 25 wardens to spread grit, clear snow and assist vulnerable community members.
Volunteers will be provided with a shovel, high visibility coat and a half-tonne "dump" of grit, and will be given a safety briefing before winter.
Councillor Tim Kent said he would like "hundreds of wardens across the city".
'Not legally liable'
Mr Kent, the cabinet member for transport, said despite having "a couple of hundred employees out clearing snow - there is no way we can clear every road and every footpath".
"In most countries the public get out there and do it themselves," he said.
"I think there's a lot of people who are prepared to get stuck in but look to the council to give them permission because there's a fear that you can get sued if someone slips where you've cleared snow.
"But that's not true, you're not legally liable and it is a good thing to do."
Bath and North East Somerset Council is also recruiting wardens for 15 pilot areas to be selected later this month, based on recommendations from communities in the council area.