Hanham Hall 'eco-village': Plans for fewer affordable homes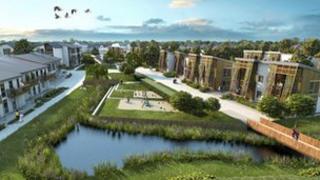 Proposals to reduce the number of affordable homes at an "eco-village" near Bristol have been discussed by councillors.
Barratt Homes wants to reduce the overall number of homes at the "zero carbon" Hanham Hall development from 195 to 185.
About a third of them, a revised figure of 61, would be affordable housing.
South Gloucestershire councillors granted planning permission to the scheme in 2009.
It is also proposed that the number of four-bedroom social rented homes is reduced from 21 to 17 due to a "viability gap".
The changes would also see £150,000 for public art scrapped.
Last month, 37 affordable homes planned for the Finzels Reach development in Bristol were cancelled after the developer ran into financial trouble.
'Huge gap'
About 60 affordable homes have also been cancelled for a housing project at the Purnell Factory site in Paulton, Somerset.
Bovis Homes has warned that 176 affordable homes could go from the Charlton Hayes development on the edge of Filton Airfield.
Ron Stone, a Labour councillor at the Liberal Democrat-run Bristol City Council, said developers should abide by their obligations.
"I think in the current economic climate it's a disaster - a disaster for local people.
"If you look at Bristol there's a huge gap between the average wage in the city and the average cost of a medium priced home."
Jenny Allen, South West manager for the National Housing Federation, said: "We accept they may be certain circumstances where it's not possible to deliver all of the things that were originally promised, but we think it's really important they [developers] take an open-book approach and are really honest with local authorities and demonstrate why it isn't viable.
"We really hope that this isn't a mechanism through which some developers are potentially being let off the hook."