Rubik's cubers travel to Bristol for UK championship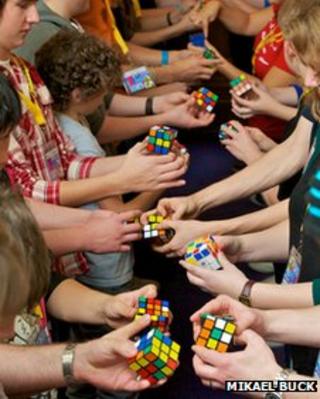 Rubik's cube enthusiasts from 13 countries are in Bristol to fight for the UK's "King of the Cube" title.
Seventy competitive "speedcubers" are taking part in the Rubik's UK Open, having travelled from as far away as Japan, Hong Kong, Finland and Germany.
Different sized cubes are used in certain events as well as competitors facing blind-fold challenges or only being allowed to use one hand.
Approximately 350 million Rubik's Cubes have been sold since its 1980 launch.
Chrisi Trussell, the organiser of the event at Armada House, said it was a "great community of people desperate to win" but the main focus was on beating personal best times.
"Someone has done the 3x3 cube blind-folded in about 40 seconds," she said.
"That means you study the cube, memorise the algorithm then put on the blind-fold and solve it - all within 40 seconds. It is quite amazing."
'Not nerds'
Rubik's cube events take place around the world with some 120 competitions being staged this year alone.
Ms Trussell said the events used to attract mainly teenage boys and young men but there were "quite a lot of girls now".
"Without wanting to be too stereotypical, they are not nerds as many think they might be," she added.
"There are some very clever people here. A lot of them are studying maths, the sciences and computer technology so they have those kinds of minds."