Patrick Stewart visits Bristol school to raise violence awareness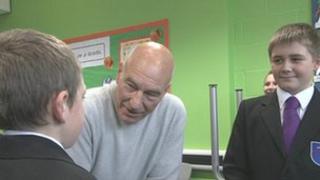 Actor Patrick Stewart has visited a south Bristol school to raise awareness of the problem of domestic violence.
Mr Stewart is a patron of local theatre company Unique Voice which tours schools running drama workshops to educate children about the issue.
The Star Trek actor has been a campaigner against domestic violence for many years since witnessing his father beating his mother as a child.
He said he is "delighted" to be the Unique Voice project's patron.
He said: "Domestic violence was not taken seriously when I was young, and it has always been an aspect of domestic life which has never been spoken of.
"When I was a child it was something to be ashamed of - a secret. People don't like to admit it or acknowledge it. People don't like to see themselves as a victim.
"That is improving dramatically because organisations like this are letting people know what the facts of domestic violence are."
Mr Stewart is also a patron of domestic violence against women charity, Refuge.
Behaviour problems
As part of his visit to Bristol, Mr Stewart attended Oasis Academy in Hengrove to meet school children and see Unique Voice's drama programme titled, Me+You=4Eva, in action.
Around 2,000 children from 27 schools in the area have been involved in the programme.
Unique Voice company director, Krystal Keeley said she was "overjoyed" to welcome Mr Stewart to observe their work first hand.
The council says surveys showed nearly half of all victims of domestic violence in Bristol are under the age of 30 and that 40% of children from families that have violent incidents at home show behaviour problems.