Kingswood community centre hit by arson to reopen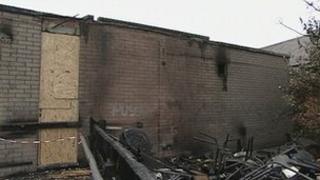 A centre for deaf and blind children in South Gloucestershire which was targeted by arsonists is to reopen.
Sheds next to the Woodside family centre in Kingswood were set alight. The fire spread to the main building and destroyed part of the roof.
Vandals also sprayed graffiti over the walls, and some of the rooms were flooded, in the attack which took place on 25 October.
It was initially expected the repairs, costing £25,000, would take two weeks.
Police are investigating the attack and are appealing for witnesses.