Occupy Bristol protesters aim to stay beyond New Year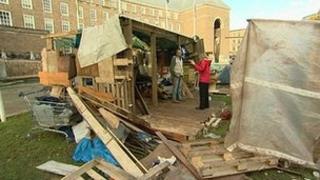 Protesters living in a tented camp in the centre of Bristol aim to stay beyond Christmas and the New Year.
Occupy Bristol protesters have met the city council and the church, which owns the land, but no agreement has been reached on a fixed leaving date.
The group, camped at College Green, wants a fairer society and for people to use less of the planet's resources.
Council leader Barbara Janke said Bristolians felt intimidated and excluded by the "illegal" protest.
'Losing focus'
"Whilst they have every sympathy with the objectives of the protesters, I increasingly feel that people want them to move," added the Liberal Democrat councillor.
The council has received reports of anti-social behaviour which the police are investigating.
Dean of the Cathedral, The Very Rev Dr David Hoyle, said there were no current plans to evict them.
"I believe the big issues behind Occupy Bristol are really important, but by being on College Green not only are they in the way of other things that should happen on College Green, but they are beginning to get preoccupied with very local issues to do with their relationship with the council and the cathedral.
"It sounds patronising but I think they're losing focus and politically it's bad for them."
Occupy Bristol is also planning to hold a public meeting in the Cathedral but nothing has been confirmed.
Spokesman, Tony Cripps, said: "We are for everybody in the Bristol community, we're camped out around the world for the whole global community."
When asked about the camp being a public obstruction he said the land was open to everyone even though it was occupied.
The protesters have also put up an online Christmas wish list, including items such as waterproof socks, a thermoelectric generator and a 1kg bag of wildflower seeds.