New inquest for Crete balcony death boy Liam Hogan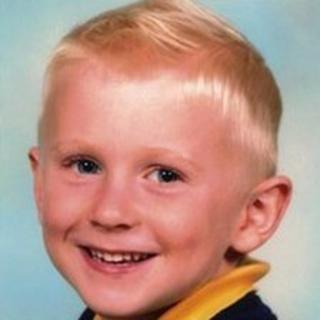 A man pushed his two children off a hotel balcony in Greece and then jumped after them, an inquest has heard.
Liam Hogan, six, died in 2006 when his father John was seen to push him from the fourth floor of the hotel in Crete. His sister Mia, survived.
An original inquest in 2008 found Liam, from South Gloucestershire, was unlawfully killed.
The verdict was quashed in the High Court because the coroner had not acknowledged Mr Hogan's mental state.
At Monday's hearing, much of the evidence given at the coroner's court at Flax Bourton was either the rereading of statements read at the original inquest in March 2008 or transcripts of witnesses' evidence from those proceedings.
'Three loud thuds'
The court was read a transcript of the evidence of holidaymaker Sarah Davidson, from Hull, who witnessed Mr Hogan push Liam and Mia off the balcony and then jump himself.
Mrs Davidson's husband Iain said he also heard a commotion and saw Liam and Mia on the balcony.
"As the children fell, the adult appeared to grab them but I think his momentum of trying to grab them back, if I can put it that way, the momentum of his body weight took him over also," his statement read.
"They then hit the ground separately... three loud thuds."
A friend of the Davidsons, Kerry Jackman, was also waiting for a coach back to the airport.
Ms Jackson's said she heard a "maniac" shouting - in a rage almost - from a room above her.
"As I looked up I saw two little children coming off the balcony, almost as if they had been pushed off, coming off the balcony feet first.
"The little girl was coming down first and the little boy was slightly above her and kind of had their arms out - it was if they were trying to grab each other almost.
"It was just like slow motion, the adult male caught up with the two children.
"Then you just heard thuds on the floor as they all fell," Ms Jackson added.
'Lady screaming'
A statement from Mr Hogan's then wife, Natasha Visser, was read to the court
She claimed he was becoming "increasingly agitated" about their proposed divorce.
Mrs Visser said when she returned to their hotel room Mr Hogan was packing suitcases because he wanted to return on the next flight but there were clothes everywhere and the cases would not shut.
"Then I turned around and no one was there [on the balcony]. I just heard a lady screaming below.
"I knew he had gone over with them. Liam had been crying and crying and crying and then it went silent, apart from the lady down below."
Mr Hogan was cleared of murder by a Greek court in a trial where it was ruled he had been suffering from "an earthquake of insanity".
The new inquest was told how there was confusion at the scene of the incident with British nurses attempting to save the little boy's life and arguments with Greek medical staff.
Mrs Visser, who has since remarried, now lives in Australia with her family and is not attending the inquest.
Liam, from Bradley Stoke, died in August 2006 from fatal head injuries sustained in the 50ft (15m) fall.
In March 2008, the then Avon Coroner, Paul Forrest, found Mr Hogan unlawfully killed Liam in Crete.
The inquest ruling was overturned by the High Court in May 2009, after judges said the question of Mr Hogan's mental state "was simply not addressed".
Failing marriage
They ordered that the case should go back "for further consideration" before a different coroner because the unlawful killing verdict was flawed.
The Hogans went on holiday to Crete in August 2006, in an attempt to save their failing marriage, and the incident happened just before they were due to fly home.
Mia suffered a broken arm in the fall, while Mr Hogan suffered leg, chest and arm injuries.
The inquest continues on Tuesday.