Working party supports plan to demolish Tropicana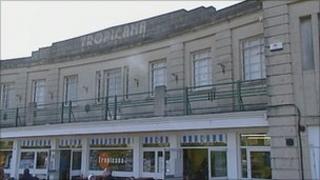 A working group has recommended that the derelict Tropicana building in Weston-super-Mare should be demolished.
The final decision on the council-owned building will be made by the Tory-run North Somerset Council on 13 December.
Several attempts have been made in the past to redevelop the former outdoor swimming pool which closed in 2000.
In March the Weston MP John Penrose called for the building to be either "built up or knocked down" as local residents were getting fed up.
'Over-optimistic'
The cross-party Tropicana Working Group voted by six votes to three in favour of knocking it down.
Councillor Elfan Ap Rees, the council's deputy leader and chairman of the cross-party working group, said: "I am very disappointed that the outcome of the market testing process is not more positive.
"I had hoped that a serious commercial developer would have come forward at the last minute with a deliverable scheme. I and everyone else were obviously over-optimistic.
"However I would like to think that, if the economy recovers, developers might see this part of the seafront as an ideal spot for a future leisure attraction, with the advantage of being able to start with a clean sheet of paper and fresh ideas."
The working group considered the findings of an independent study which said there was not enough evidence to prove the viability of any revamp scheme.
Leader of the Liberal Democrat opposition group, Mike Bell, said: "Conservative councillors think they are being courageous in taking this decision.
"They could not be more wrong. It is the easiest thing in the world to knock things down, it is far harder to build things up."
He has called on local residents to campaign against any move to knock it down.