Liam Hogan inquest: Father 'not insane at time'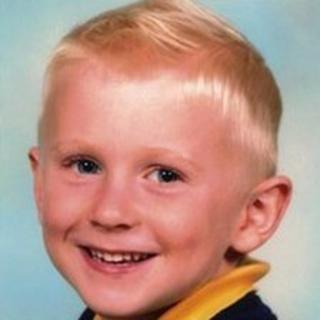 A father was not mentally ill when he killed his six-year-old son by pushing him off a hotel balcony in Crete five years ago, an inquest has heard.
Liam Hogan died in 2006 after his father John was seen to push him from a hotel balcony in Crete before jumping himself with Liam's sister Mia.
Dr Akintundi Akinkummi said he could not conclude Mr Hogan was legally insane at the time of the incident.
An earlier inquest, later quashed, found Liam was unlawfully killed.
Liam suffered fatal head injuries in the fall. Mia, two, survived with a broken arm and Mr Hogan suffered leg, chest and arm injuries.
A Greek court later found Mr Hogan not guilty of murder because of his mental state.
'Defect of reasoning'
Dr Akinkummi, a consultant forensic psychologist, was critical of the two Greek psychologists who examined Mr Hogan in the weeks and months after Liam died.
He said after studying documentation he did not believe Mr Hogan could properly be described at the time as suffering from a defect of reasoning arising from a disease of the mind.
"Neither am I satisfied that he could properly be described as being unable to know the nature of the act he was doing.
"I am unable to express the view as to whether or not Mr Hogan appreciated the wrongfulness of his actions.
"On balance I would not be prepared to opine that Mr Hogan was mentally insane at the time."
Judges at the High Court quashed the previous verdict in 2008 because the coroner had not acknowledged Mr Hogan's mental state.
Mr Hogan and his then wife Natasha went on holiday to Crete in an attempt to save their failing marriage, and the incident happened just before they were due to fly home.
Dr Akinkummi was asked by Christina Lambert QC, representing Mr Hogan, whether his wife's announcement earlier that day that she was leaving him when they returned to the UK could have triggered a psychotic episode.
'Angry and emotional'
But the psychiatrist said in his 25 years of experience he had never seen a psychotic episode triggered in such a way
He said it was perfectly understandable for Mr Hogan to be angry and emotional at his wife's decision but that did not mean he was mentally ill when Liam died.
At the conclusion of Tuesday's evidence counsel representing Mr Hogan and Mrs Visser said the only two verdicts open to the coroner were unlawful killing or a narrative verdict.
The inquest at Flax Bourton Coroners Court continues.