Autumn Statement: £63m for Bristol transport plans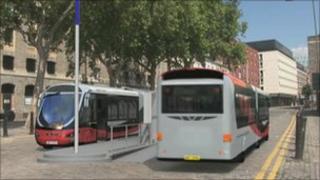 Two major transport schemes in Bristol are set to receive £63m in funding, the chancellor has said.
The announcement in the Autumn Statement is part of the coalition's £5bn infrastructure spending plans for the next three years.
The South Bristol Link is to receive £28m, while the rapid transit bus route from Ashton Vale to Temple Meads will receive £35m in funding.
An extra £32m is needed to get both transport schemes off the ground.
Liberal-Democrat controlled Bristol City Council has welcomed the announcement.
Councillor Tim Kent, cabinet member for transport, said: "Bristol is about to enter the big leagues with the kind of public transport network that attracts new players and unlocks new areas for improvement and growth, which is powerful news for local business and local people."
Campaigners say the schemes will eat into valued greenbelt land, will not be cost effective or well-used and are not popular among local residents.
Pip Sheard, from Transport for Greater Bristol Alliance, said: "It [South Bristol Link] has minimal impact on congestion and the journey saving times are tiny.
"It also has lots of links which will lead to congestion as it's only a single carriageway and the rapid transit bus route is likely to be uneconomic and will open up the green belt for development."
Bristol City Council has estimated the total cost of the rapid transit bus route from Ashton Vale to Temple Meads as £50m.
The South Bristol Link is expected to cost about £45m, with the remaining balance of £17m to be raised by third parties.
This could be from private developers via the introduction of a city centre workplace parking levy scheme or a supplementary business rate, as well as using its own funds.
North Somerset Council will also contribute to both schemes.
But the opposition Labour group at the city council said although it welcomed the announcement, a detailed proposal was needed to show how the funding gap of £32m would be filled.
It said more work was needed to address people's concerns over the new bus routes.
Bristol City Council is also hoping to secure £51m from the government for another rapid transit bus scheme from North Fringe to Hengrove.
This announcement is due in December.