Bristol taxi driver burn Temple Meads permit demands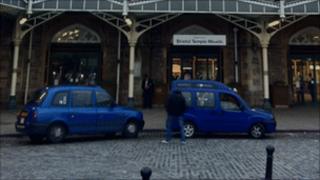 Taxi drivers have staged a protest over plans to charge for a permit to allow them to pick up passengers at Bristol Temple Meads railway station
Drivers will have to pay an annual fee of about £300 a year so they can drive to the front of the station.
They burned the permit applications they had been sent by First outside the station.
First said the front of the station was congested and that charging for permits was normal at other stations.
"At the end of the day we've got to look after our customers and we think this will give them a better experience at our station," a spokesman said.
The Bristol Taxi Association, said drivers had not paid fees at the station since 1974.
"We firmly believe this is just a money revenue-raising exercise by First", said driver Tim Lloyd.