Occupy Bristol group 'to stay until spring'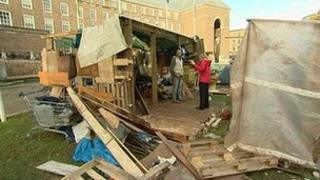 Members of the Occupy Bristol group say they are expecting to remain on their campsite until at least spring.
The campaigners, who have been on College Green for nearly two months, want a fairer society and for people to use less of the planet's resources.
They say they do not feel under any pressure to leave.
But the Dean of Bristol Cathedral, which owns the land, says the site is needed for other things.
The land is owned by the cathedral but is maintained and managed by Bristol City Council.
The protesters are building a small village of wooden structures to protect them from the elements as temperatures drop.
'Growing concerns'
Occupy Bristol spokesman Tony Cripps said: "When the winter's over we get into spring and we see what happens from there.
"I don't personally think that the council or the church will move to move us on before March."
The Very Reverend Dr David Hoyle, Dean of Bristol Cathedral, said: "We do believe passionately that that land is needed for other things - for the use of the community even though it's our property.
"There are growing concerns about some of the incidents that are happening, on or around, not always the protesters themselves, the green."
Stephen Williams, the Liberal Democrat MP for Bristol West, said: "I don't think they should be there, I don't think they should stay and I think they should move on.
"We have a free society where people can make a protest and at some point the authorities, in this case the cathedral and the city council, will have to come to a decision as to when they want this protest to end."