Man gets bionic fingers after Yate factory accident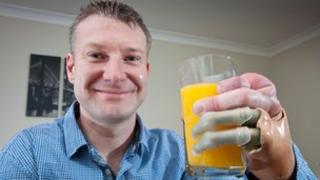 A man who lost three fingers in an industrial accident four years ago has been fitted with bionic digits.
Michal Takac was working on a printing machine at the Smurfit Kappa plant in Yate, near Bristol, when his hand became trapped between two rollers.
He recently agreed a settlement with the company, enabling him to get two prosthetic fingers. The third finger was replaced by his toe.
Mr Takac said his new fingers were "amazing".
Electrodes within bionic fingers read signals given by the muscles in the wearer's remaining limb, enabling the digits to move independently.
'Respond and move'
The accident happened in July 2007.
A prosecution was brought by the Health and Safety Executive against Smurfit Kappa for failing to ensure that effective measures were taken to prevent access to dangerous parts of machinery.
The company, which manufactures packaging, was fined £2,500 and ordered to pay £2,359 in costs at North Avon Magistrates' Court in Yate in 2008.
Mr Takac's settlement was agreed in October and he worked with a bionics firm to get his new fingers during November.
The operation to replace his finger with his toe was carried out in 2007, a few weeks after the accident.
Mr Takac said: "After the accident I felt so low, as I had so much taken away from me.
"I couldn't work or carry out normal, everyday tasks such as picking up a glass.
"To now have two new bionic fingers, that actually respond and move, is amazing."
Smurfit Kappa declined to comment.