SS Great Britain passenger's letters given to Brunel Institute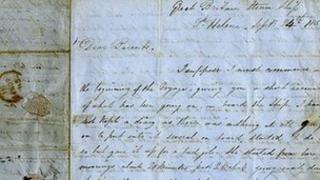 Letters providing an "insight into life on board" the ss Great Britain in 1852 have been donated to Bristol's Brunel Institute.
The papers are from passenger William Rance on the ship's first voyage to Australia.
During the 81-day voyage, Mr Rance wrote to his parents complaining of boredom, the quality of food, poor ventilation and unbearable heat.
His descendents have given the papers to the ss Great Britain Trust.
Rhian Tritton, from the trust, said it "puts our gripes about modern-day travel to Australia into perspective".
Gold rush
The ss Great Britain was the world's first iron-hulled screw-driven ocean liner, propelled by a combination of steam and sail power, and launched from Bristol in 1843.
On 21 August, 1852, the ocean liner left Liverpool on the first of 32 voyages to Australia.
Mr Rance was one of 630 passengers on board attracted by the opportunities offered by Australia's gold rush.
But the ship was forced to divert to the island of St Helena for refuelling adding more than 2,000 miles and 20 days to the voyage.
The papers, donated to the ss Great Britain Trust's Brunel Institute, document the passengers' frustrations and anger at the delay which meant the journey cost them more as, while food was provided, alcoholic drinks were extra.
In his first letter home, dated 24 September 1852, Mr Rance not only comments on the insufficient quantity of coal on board but the almost unbearable heat, the poor ventilation and the boredom of the voyage.
"I have not kept a diary as there was nothing at all going on to put into it, several on board started so but gave it up for a bad job," he states.
'Preserved potatoes'
The letter written to his parents also complains about the quality of the food provided to second class passengers.
"He talks about food a lot and has a bit of a moan, which is actually quite typical from the other sources we've got," said Ms Tritton, one of the trust's directors.
"But actually when he lists what the second class passengers get for a day's rations it sounds pretty good.
"Breakfast, for instance, was tea or coffee and biscuits, porridge with a bit of salt pork or molasses. For lunch they'd get some meat and some preserved potatoes and a bit of rice and plum duff three or four times a week and pea soup three or four times a week.
"For tea they'd get tea and biscuits.
"It doesn't sound like a bad ration to us and it's probably more than we would eat in a day."
The Rance documents are available for members of the public to view at the Brunel Institute.