Stokes Croft campaigners set up market stall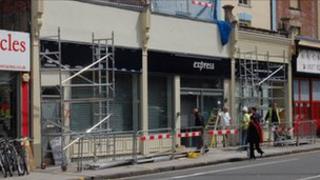 Campaigners opposed to a controversial Tesco Express store in Bristol have begun selling items on a market stall.
The No Tesco group has been fighting the opening of the supermarket in Stokes Croft since plans for the store were revealed nearly two years ago.
In April, the store on Cheltenham Road was targeted during rioting.
Organisers said the "People's Supermarket" would provide an alternative place to shop from Tesco.
It launched with the running of a stall at a Stokes Croft winter street market with plans to make it a more permanent event.
Community activist Claire Milne, who heads the No Tesco campaign group, said: "As well as obviously wanting to stop the Tesco, there was such a huge appetite for setting an alternative up.
"We needed something that really represents the values of our community and allows people to buy healthy, sustainable food at affordable prices."
The stall sources its products from local community farms and hopes to gain premises in a building owned by the Elim Church on Jamaica Street.
They plan to open weekly in the New Year.
Head of Property at Tesco, Michael Kissman, told the BBC's Inside Out West programme that the Tesco Express store in Stokes Croft is supported by large numbers of people in the community.
"I speak to people locally, be they local people or local businesses, they welcome the jobs we've created, the investment in the high street, and the store taking a derelict building and bringing it into use, and they simply value the good value and convenience food it can offer."
You can watch more in a special edition of BBC1's Inside Out West, called 'The Battle for Stokes Croft', at 19:30 GMT on Monday 19 December and on the BBC iPlayer for seven days afterwards.