Benjamin Cyster detained over Bristol riot block drop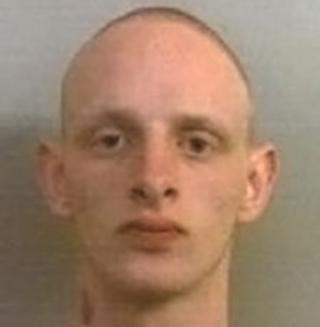 An 18-year-old man who dropped a block of concrete on police officers during the Bristol riots in April has been sentenced to seven-and-a-half years.
Benjamin Cyster, from Bristol, had pleaded guilty to grievous bodily harm and violent disorder.
Bristol Crown Court sentenced him to six years for assault and one-and-a-half years for violent disorder.
The majority of this term will be served in a secure hospital under the Mental Health Act.
Cyster, of Nags Head Hill, St George, pleaded guilty to grievous bodily harm, violent disorder and the theft of a police shield.
The court was told Cyster had climbed via a lamp post on to a roof and then dropped the five-and-a-half stone (35kg) block down on to the police.
PC Nicholas Fry, from South Wales Police, was one of a line of officers walking up a street to help clear it of people in the early hours of 22 April 2011.
His injuries included a fracture and nerve damage.
Sentencing Cyster, the judge told him that it was obvious that, in the future, he represented a serious risk of harm to the public.
He added: "This was a determined and ugly piece of violence by you against constable Fry."
The judge said he considered Cyster to be so dangerous that he would give an extra extended sentence of four years which would come into operation if it was considered that he had not responded to treatment.
Speaking outside court, Det Ch Insp Will White, from Avon and Somerset Police, said: "Cyster dropped a slab weighing a considerable weight on to a police officer in a deliberate and reckless act.
"The officer would not have seen the slab being dropped and Cyster would have been aware of this.
"He caused several injuries to the officer who had travelled from south Wales to help tackle the disorder and restore peace for the local community in Bristol.
"It also sends a message to those people who choose to become involved in disorder that the courts will not tolerate this behaviour," he added.
The disturbances were sparked after police raided a property occupied by squatters opposite a newly-opened Tesco Express store in Cheltenham Road fearing petrol bombs were being made there.
Windows were smashed, graffiti daubed and shutters damaged at the store during the rioting, which occurred over two weekends.