Occupy Bristol 'will not move on', protester says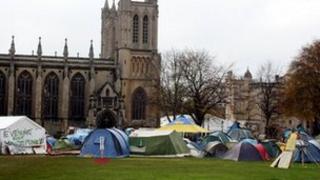 An Occupy Bristol protester has said he was wrong to say the group would leave its camp next month.
Tony Cripps said on Sunday that campaigners were planning to move on by mid-January, but this was later denied by other group members.
They said it could be March before the protesters left the site.
The campaigners have been camped on College Green, which is land owned by Bristol Cathedral but maintained by Bristol City Council, since 15 October.
Mr Cripps, who said he was a spokesman for the group, said on Monday that its members would make a statement about their plans in the second week of January.
He added: "That doesn't necessarily mean that we intend to carry on our occupation of College Green.
"We continue regular dialogue with the Dean [of the cathedral] and the council."
The protesters are campaigning for a fairer society as part of an international anti-poverty movement.