Somerset M5 death-site safety fence 'too risky' to install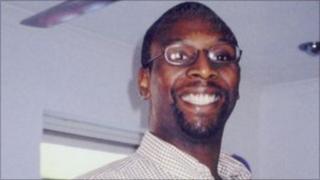 A new safety fence on the M5 in Somerset where a man fell to his death six years ago would be too risky to install, the Highways Agency has said.
Cecil Grant, 42, died after falling 16ft (4.8m) from an embankment near Clevedon while fixing a faulty camera.
The coroner at Mr Grant's inquest wanted a new barrier to be built to prevent similar accidents.
Following a safety review the Highways Agency said the risks of installing a barrier were greater than the benefits.
'Warning signs'
In January 2006, CCTV engineer Cecil Grant, from Southmead in Bristol, stepped over the motorway barrier, between junctions 19 and 20, to repair a roadside camera, and fell. He died 10 days later.
An inquest, in 2009, ruled his death as accidental.
A spokesman for the Highways Agency said: "We take the safety of workers and members of the public on our roads very seriously and we undertook a full and comprehensive safety review at the site following the accident.
"Particular consideration was given to the provision of a safety fence and the conclusion was that the risk to workers installing and maintaining the fence was greater than the safety benefits it would provide.
"The review did however recommend that warning signs were installed along this section of the motorway to advise of the potential hazard and these signs have now been installed."
'Risk to public'
Mr Grant's ex-wife Karen Sealey said: "We thought after the inquest that they would go out and [install the safety fence.] We thought it was one of the positive things to come out of the inquest.
"We just feel that we can't have closure until something is put in place there, so other people don't go through what my children and Cecil's family have had to suffer.
"I think the risk to the general public is a lot bigger. If you get a mum breaking down with her children then you are always advised to get out of your car.
"The barrier can't be that hard to get over because Cecil stood over it. I just think something should be put in place to stop children and adults falling down the side - especially when it's dark."
Mr Grant's employer Serco, and contractor Birse Civils, were fined a total of £300,000, at Bristol Crown Court in 2011, after the Health and Safety Executive brought a case against them.
Both companies pleaded guilty to breaching safety regulations.