'Rot in hell' message for Bath charity box thief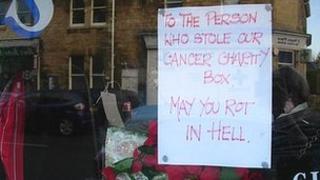 Thieves who stole a charity box from a Bath antiques shop have been told they can "rot in hell" by the shop's owner.
Dave Rolfey, of Rolfey's Antiques on Bear Flat, had been collecting for the Royal United Hospital cancer unit after suffering from cancer in the 1980s.
Following the theft, Mr Rolfey was "so livid" he put a hand written sign in his shop window expressing his anger.
He said: "I don't care who they are or what they do, there's just no excuse for it. It's the lowest of the low."
The charity box contained about £150 in donations and is thought to have been taken on Friday or Saturday.
"It was hanging up next to the office. It wasn't chained, it wasn't nailed and in our naivety we trusted people," said Mr Rolfey.
"Normally this week we'd be counting it and taking it out to the Bath cancer unit.
"I just can not understand the mentality of someone who steals something that is there for the purpose of trying to help people be cured from a dreadful disease.
"It's really, really sad."