Old railway drawings given to Bath Record Office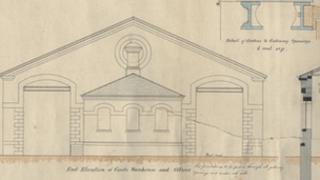 Drawings of old railway buildings and equipment that were borrowed from Bath City Council almost 30 years ago have been returned.
The 80 sketches, which date from 1869 to 1934, include an engine shed, and stabling for horse-drawn taxi carriages in Green Park Station's goods yard.
The Somerset and Dorset Railway Trust, which borrowed the drawings in 1982, carried out an inventory check.
They have now given them to Bath and North East Somerset Council.
The collection has gone on display at Bath Record Office.
Principal archivist Colin Johnston said the return of the drawings was "a great surprise".
"They were given to the old Bath City Council by British Rail back in the 1980s," he explained.
"They all have the stamp of the 'British Railways Engineering Office, Paddington' and they've been well looked after and carefully wrapped in tissue paper."
He said the sketches were produced by the railway company for construction work on what used to be the railway goods yard.
"We have virtually nothing in the way of railway drawings here so it's really pleasing for this to come in, as 80 drawings can offer a wealth of information on one topic," he said.
"I'm sure it will be wonderful source material for railway enthusiasts."