Warning issued over Bristol area fuel thefts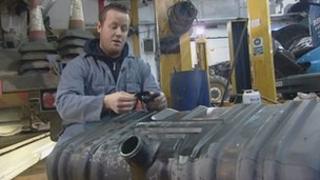 Drivers and businesses are being warned to be vigilant following a spate of fuel thefts in the Bristol area.
The warning comes after thieves drilled into the tanks of transit vans, two of which belonged to a charity.
During the last financial year, £28,000 of fuel was stolen from filling stations across Avon and Somerset by people who drove off without paying.
Theft from domestic and business vehicles and fuel tanks took the total to £150,000.
HGV technician Daryl Murphy, whose firm has been a victim, said a general-sized lorry fuel tank cost about £1,000.
"Then there's the cost of fuel they've lost, sometimes the vehicle has to get towed in," he said.
Insp Bob Evely, from Avon and Somerset Police, advised business owners to use CCTV if they have access, secure depot yards overnight and ensure vehicles are locked away.