Funeral held for WWII veteran Peter Matthews in Bristol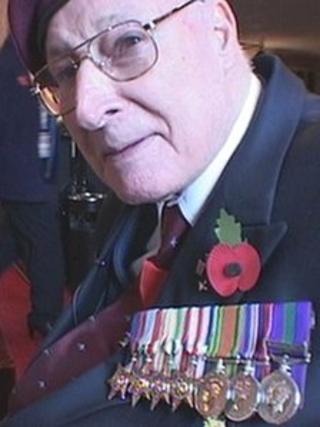 The funeral of a highly decorated World War II veteran has taken place in his home city of Bristol.
Former paratrooper Peter Matthews, 86, died on 12 December.
A member of the 4th Battalion Parachute Regiment, he was awarded France's highest award for gallantry, the Legion d'Honneur, for his involvement in the liberation of southern France in 1944.
Representatives of the Parachute Regiment attended his funeral service at St Francis Church in Bedminster.
Born in Hampshire, Mr Matthews joined the London Irish Rifles Light Infantry in September 1941 when he was 16 years old.
A year later he was selected to join the Army Air Corps, an elite parachute regiment, and after getting his wings was deployed as part of the 4th Battalion to Africa and Iran.
'Very robust'
He was involved in one of the hardest-fought battles of World War II, at Monte Cassino in Italy in 1944.
In August 1944, as part of Operation Dragoon, he was among British paratroopers dropped deep behind enemy lines ahead of the US sea-borne invasion of southern France.
Retired Maj Dick Hargreaves, 92, was Mr Matthews' Company Commander.
"He was a very steadfast chap, very robust with a very nice sense of humour which helped us all because we had some difficult times," he said.
"We were together in B Company in North Africa, Italy, France, Greece and Palestine and we were together for more than two years.
"And I remember him as an extremely good soldier, very gallant and very brave."
Mr Matthews' medals included the Greek Star, which was issued by the Greek government, and the Legion d'Honneur, presented by the French government in 2004.