Bristol Ice Rink to be turned into student flats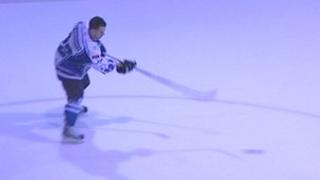 Bristol Ice Rink is to close next year with the building being turned into student flats.
The rink, which opened in 1966, is home to the Pitbulls ice hockey team and was the place where Olympic gold medallist Robin Cousins learnt to skate.
Plans are in their early stages to redevelop the site on Trenchard Street.
The site's owner, the Unite group, which builds student accommodation, said the O2 Academy music venue would not be affected but the ice rink would.
The rink's lease expires next year.
'I'm gutted'
A spokesman for the Unite group said: "We are in discussion with the owner of Bristol Ice Rink about their future role in the new development.
"The new development will include some leisure space and we will work with the ice rink to keep ice rink users informed of our proposals as they develop."
Richie Hargreaves, from the Bristol Pitbulls, said: "I'm gutted for anyone and everyone that has helped us to be what we are today.
"We started with 18 guys three years ago and we're up to four teams.
"We are going to try and put a women's team in next year and we have a numerous amount of programmes and charity work we do."
Unite, which has owned the site for 10 years, said it would now like to redevelop it "in response to the positive outlook of the city's two universities".
Eddie Pearson, manager of the ice rink, said it was "a very sad day".
"In terms of job losses, we're looking at around 23-25 of my staff and also, on top of that, there's the coaches who work for the rink - about six of them - and the suppliers to the rink are affected."
Subject to receiving planning permission, the flats could be ready by September 2014.