Brisfest 2012 to be held at the Ashton Court Estate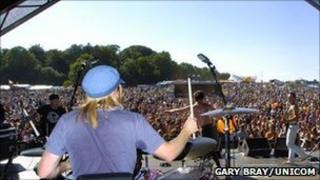 A volunteer-run community music festival in Bristol is to be moved to a new site on the Ashton Court estate.
Brisfest has been running since 2008 and has seen crowds of up to 25,000 people in attendance at its former location in the city's Harbourside.
This year's event, which takes place in September, will be the first time a festival has been held on the Ashton Court estate in five years.
The annual Ashton Court Festival, which started in 1974, folded in 2007.
Brisfest's move to Ashton Court, which has been approved by Bristol City Council, will increase the festival's capacity to 40,000 over two days.
Organiser Poppy Stephenson, of the Bristol Festival Community Group, which organises the event, said: "Having started off on a smaller scale, we've built Brisfest from the ground up over the last four years.
"We now have the people, the resources and the systems we need to bring us home to Ashton Court, our 'spiritual home'."
Following the final Ashton Court Festival, the Bristol Festival Community Group came together in 2007 in a bid to ensure the survival of a community festival for the city.
A two-day event, attended by some 14,000 people, was held in 2008.
The festival expanded to three days in 2009 and 2010, when visitor numbers grew to 16,000.
About 25,000 people attended the event in 2011.
This year's festival will be held on 22 and 23 September.