Lord Green and potty salesman launch export drive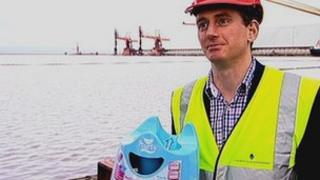 "It's clearly a product with global appeal. People potty train their children all over the world, and our potty is the best there is."
Like his customers, Jon Rathbone's business is just a baby. He employs no-one. But already he is selling in 16 countries.
But sadly, the Gloucestershire entrepreneur is unusual.
Too few West Country firms think global. The South West exports less than anywhere in England.
Although 8.5% of the UK population live in the region, only 4.8% of the country's exports come from here.
Famous factory
It is ironic, of course, for a region built on trade. And there is still plenty of it. Bristol has a thriving port, employing 7,500 people. Filton's famous aircraft factory is now part of the global Airbus machine, making around half of the world's aircraft.
Many of Gloucestershire's big employers - Messier Dowty, Moog, GE Aviation - sell to the global aerospace industry.
But the majority of companies here are small, and small firms often focus only on selling within the UK.
That is why a conference has been organised in Bristol, on Monday, to encourage small companies to think about exporting and show them how.
Trade minister Lord Green will urge every company to think global.
Launching the new "Exporting for Growth" prize recently, Lord Green said: "We know we cannot rely on consumption fuelled by debt, or on government spending funded by debt, to drive growth.
"We all know the only other way of driving growth and creating jobs, the only way of creating sustainable growth, in fact, is through investment and trade."
Winners will get £5,000 of export advice from leading bankers and experienced traders. To win, companies must pitch a new export idea to a panel of seasoned exporters.
The national competition began in the West Country last year, with a similar competition called "Born Global", and Mr Rathbone's innovative potty was one of the winners.
Winning the prize allowed him to quit his day job as a corporate lawyer, and concentrate full time on getting his potty global.
UK Trade & Investments (UKTI), the government agency behind the event, has discovered that companies that start exporting grow by 34% on average, and are more likely to survive than those which do not.
Andrew Fraser, an export advisor with UKTI, put it like this.
He said: "If you have a technology, a product or a service which sells well in the UK, you should be able to succeed internationally. But if you are failing here, you will fail abroad."