School in North Somerset investigates exam error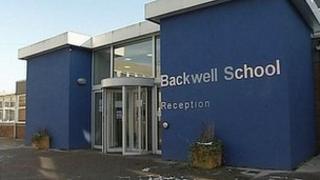 An administrative error at a North Somerset school which resulted in 100 pupils being unable to take some of their GCSE exams is being investigated.
Students at Backwell School were revising for chemistry and biology when it was discovered they had not been entered for the correct modules.
Head teacher Julian Baldwin said the mistake was down to "human error" and was being investigated.
Students will now sit their GCSE science modules in the summer.
Mr Baldwin said: "Clearly we all make mistakes and I will be dealing with the colleague or colleagues who have made these errors.
'Failsafe procedure'
"But the most important thing is to find out how it has happened and to make sure it doesn't happen again and to make our failsafe procedure even better to make sure we don't have a repeat of this episode."
The school in Backwell became an academy last year and currently has 1,700 students.
Mr Baldwin said he thought the students would probably be disappointed as they had been "working very hard for these exams".
He added: "They also understand that they will be in an even better position to take this exam in the summer."