No new leads in Barry Rubery murder case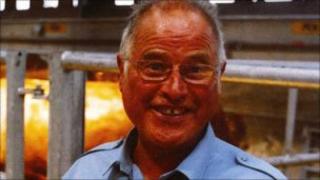 Police in Bristol are no closer to finding the killer of a grandfather battered to death nearly two years ago, an inquest hears.
Barry Rubery, 68, was found dead at his home in Iron Acton on 29 April, 2010.
The retired farm labourer had been tied up and a number of his belongings had been stolen, the hearing at Avon Coroner's Court was told.
Det Con Gwen Bevan told the inquest no suspect had been identified. A verdict of unlawful killing was recorded.
No motive
The detective said: "He was subjected to a violent and sustained attack by unknown offenders. This investigation is still continuing."
She also told the inquest no motive for Mr Rubery's death had ever been established.
Pathologist Dr Hugh White, who carried out the post-mortem examination, told the inquest that Mr Rubery had been beaten to death.
He said: "I found extensive areas of bruising consistent with suffering multiple blunt force impacts. Death would have occurred relatively quickly."
Mr Rubery's heavily bloodstained body was found by a friend the morning after the grandfather-of-six had attended a dinner at a Masonic lodge in Bristol.
'Appalling tragedy'
He was still wearing the black suit he had worn to the event.
Mr Rubery's ankles and wrists had been bound together by electrical flex and cable ties and there were signs of a struggle outside and evidence that he had been dragged from his garden into his home.
Drawers and cupboards in Mr Rubery's home had been rummaged through and a gold Masonic pocket watch, an old Makita drill, keys, a Nokia 3310 mobile phone and an extension lead were stolen.
However, Mr Rubery's pocket watch and £130 he had on him were not taken, and there was no evidence that a safe in his home had been tampered with.
Avon Coroner Maria Voisin described Mr Rubery's death as an "appalling tragedy".