Have-a-go hero hits Bath bank raid robbers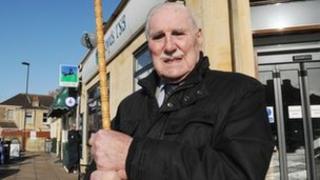 "I'm not a hero," said 88-year-old Gordon King. "It was just instinct."
It was an instinct that almost foiled a bank robbery in Bath when thieves pounced on a security van delivering a "significant sum" of money.
Although they got away, it was only after a brusing encounter with the retired police officer with 29 years of service.
Mr King, who also served in the army, set on one of the thieves with his walking stick during daylight raid.
"I was talking to a chap from the army when the guy slid back the sliding door on the van. Straight away I thought there's not much security here!
"I started to walk away and I turned for some reason and this chap with a balaclava - I just saw his eyes - and he was trying to snatch the bag away from the security guard.
"So I whacked him on the arm to try and stop him."
'Nasty bruise'
The tussle with Mr King outside Lloyds TSB on Moorland Road in the Oldfield Park area of Bath saw the ex-policeman injured - but not before he got in a few blows of his own.
"I gave him a few whacks around the head - I was trying to stop him," Mr King said.
"Unfortunately my stick broke and I was pushed to the ground by an accomplice who I didn't know was there.
"I cracked my head and got a nasty bruise. I was in the hospital for three or four hours being treated."
During the raid, Mr King said he also suffered a pulled muscle and said his hearing has since become muffled.
But the Bath resident said he would "do it again".
"The police say you shouldn't, but I didn't care if he was armed," he said.
"It was the police training that just kicked in."
And his actions have drawn praise from serving police officers.
Det Ch Insp David Gill said: "Mr King's actions are to be commended - the citizens of Bath will be very pleased with his actions.
"On this occasion he had no thoughts for his own safety.
"He could see a crime was in action and he's acted accordingly and has very instinctively gone to help the guards.
"He should be very much commended for his actions."