Bristol's Glenside Hospital gets £30k grant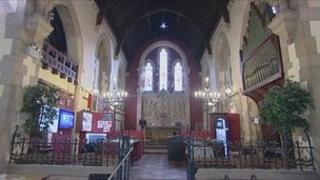 A former asylum in Bristol has been given £30,000 to further develop its transformation into a museum.
Glenside Hospital closed in 1994 after more than a century but the old chapel on site was reopened in 2010 as a museum dedicated to mental illness.
The £30,800 Heritage Lottery Fund grant will be spent on the collection of more hospital memories and extra training and education of museum volunteers.
The former hospital site is now run by the University of the West of England.
'Sense of identity'
Dr Ihsan Mian, chair of the Friends of the Glenside Hospital Museum, said the group was passionate about preserving the hospital's heritage for future generations.
"There is no health without mental health and the grant will help us connect more people to the past and help give them a sense of identity," he said.
More than 1,500 people visited the museum in its first year of opening and a spokesperson said it has gone from "strength to strength".
Its aim is to show how mental health treatment has changed since the old hospital was opened on Blackberry Hill, Stapleton, in 1861.
Displays include old-fashioned medications and remedies, a padded cell, mortuary equipment and dioramas of a sick ward and operating theatre.
According to the museum, famous visitors to the hospital included actor Cary Grant, artist Stanley Spencer, and more recently Ruby Wax while filming a television series about mental health.