Actor Dave Prowse helps launch Bristol road safety campaign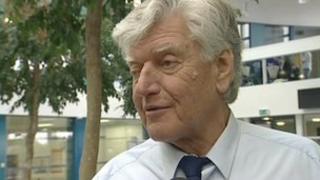 Actor Dave Prowse, the original Green Cross Code Man, has helped launched a road safety campaign aimed at schoolchildren in Bristol.
Bristol's Driving Force Training Ltd and Nailsea School has developed the UK's first BTEC qualification in driving and driver education.
Road safety charity Brake said car crashes were the number one cause of death for young people globally.
Mr Prowse said it was vital young people were properly educated to drive.
The 76-year-old actor was the face of the Government's Green Cross Code campaign from 1971 to 1990 and also played Darth Vader in the original Star Wars films.
He said: "It's a wonderful campaign because it starts with young adults at school and they can learn all the whys and wherefores of driving before actually taking a test or getting on the road."
The course, which is aimed at Year 12 and 13 students at Nailsea School, includes 30 hours of practical learning in a car leading to the DSA Driving Theory Test.
Students will also learn about general good driving practice, courtesy, car safety, basic mechanics and vehicle maintenance.
A Driving Force Training Ltd spokesman said: "The course will provide a sound foundation upon which students can build to become safer drivers by taking further lessons and going on to pass the practical test."