Apology after wrong grave mix-up at Bristol cemetery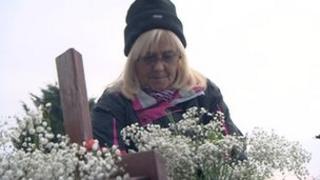 A woman turned up to visit her mother's grave to find another person about to be buried there.
Carol Stone had been visiting the Avonview Cemetery in St George, Bristol on the second anniversary of her mother Joyce's death.
The estates department at Bristol City Council has apologised to Ms Stone for staff mistakenly digging the wrong grave.
Procedures are being tightened up following an emergency meeting.
It is fairly common for graves in the UK to have two coffins in them.
The council said the error occurred because staff did not realise Ms Stone's mother's grave was there because she was buried 6ft down while the new grave was dug to 4ft.
The spokesman said there will now be three checks instead of one and the hand-drawn maps, which date from the 1900s and have been extended over the years, will be updated and digitised.
'Utter mistake'
Ms Stone said it was "an unbelievable thing to happen".
"As we drove up we noticed there was a funeral awaiting," she said.
"I couldn't see my mum's grave, there was just this hole.
"Just imagine if it had gone ahead, then I could have come up here next week and there could have been all these flowers."
Richard Bevan, estates and cemeteries manager at Bristol City Council, said: "It was a complete and utter mistake on our part I'm afraid, we obviously dug the grave in the wrong place.
"As you can see they're quite close together, that's not an excuse.
"It's just a breakdown in communication, we are absolutely distressed, the staff are distressed, I know the families are distressed, we all are."
Ms Stone said she hoped she would be able to see the funny side in time, like her mother.
"Knowing her she'd probably be up there laughing now," she said.
The other family had to wait 30 minutes for a fresh grave to be dug before carrying on with their burial.
They have also been offered an apology.