Bristol agency contracted to supply teachers to Georgia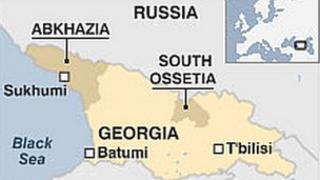 The Bristol Black Development Agency has been awarded a contract with the Georgian government to provide volunteer English teachers.
It is hoped that 1,700 newly qualified teachers from the Bristol area will spend up to a year in the country.
Bristol was twinned with the Georgian capital Tbilisi in 1988 and the programme has been set up by the Bristol Tbilisi Association.
The agency is looking for volunteers from all ages and backgrounds.
English lessons became compulsory in Georgian schools starting in the first grade, in September 2011.
'Strengthening relationship'
The aim of the scheme is to help Georgians learn English as well as provide employment and teacher training experience to people in and around Bristol and the southwest.
The agency is no longer funded by Bristol City Council, but Alex Smith, who is in charge of the Georgia Project, said they were "not really looking at the financial benefits".
"It's more about strengthening our relationship with Europe and trying to really get jobs for us - for people over here," he said.
"A lot of organisations have been struggling and it means we can help them additionally in terms of the support."
The agency has two years to deliver the programme and if it is successful in the south west, volunteers will be recruited from across the UK.