Honorary degree for Bristol surveyor Tim Stevenson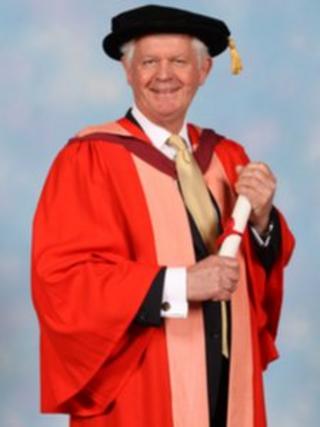 A man credited with bringing 20,000 jobs to Bristol has been awarded an honorary degree.
After qualifying as a chartered surveyor in 1967, Tim Stevenson helped establish the commercial department of city firm Lalonde Brothers and Parham.
He became a partner at 23 and as regional managing director, the university says he foresaw the opportunities the M4 would bring.
He was awarded a Doctor of Laws by the University of Bristol on Tuesday.
Prof Selby Knox, from the university, said Mr Stevenson had spent a "considerable time" in London encouraging companies including Sun Life, London Life, Phoenix Assurance and the National Television and Licensing Authority to relocate to Bristol.
He later became a member of the university's estates committee and was its chairman until 2010.
He also served as a member of Bristol City Council.
Prof Knox, from the university's School of Chemistry, said: "Tim can claim to have brought 20,000 jobs to Bristol, along with the construction work and the supply chains that go with it.
"This has had a huge impact on the local economy."