Chris Vacher gets Royal Television Society award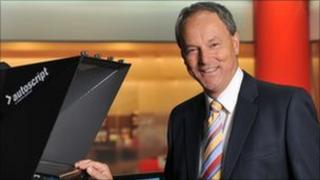 Veteran Points West presenter Chris Vacher is to be given a lifetime achievement award by the Royal Television Society (RTS).
When he retired in December, after 28 years of fronting the programme, he was the longest serving anchor of any BBC Regional news show.
Mr Vacher, 60, will been given the honour at the annual awards ceremony of the Bristol branch of the RTS later.
Previous winners include Arthur Negus, Johnny Morris and animator Nick Park.
Event producer Andy Batten-Foster said the award was a special prize in recognition of an outstanding contribution to television in the West of England region.
"It's a special award," he said. "We don't give it out every year. We only give it to people who've done something very, very special in television.
"People have to serve less than 28 years for murder so the very least he deserves is a proper send off."
The annual red carpet ceremony will be held at the Showcase Cinema De Lux in Cabot Circus.