Tropicana demolition plans could be challenged in court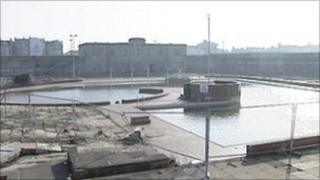 An attempt to save the former Tropicana seaside attraction in Weston-super-Mare from being bulldozed has been made.
The Trop (WSM) Ltd, which claims it could draw up a plan to save the site within days, said it had begun legal proceedings against demolition plans.
North Somerset Council voted in December to pull down the buildings on the seafront.
A council spokesman said a "robust response" had been sent to strongly defend the authority's decision.
'Judicial review'
Derek Mead, a property developer and farmer, said the rescue project had been dismissed in the past because The Trop (WSM) Ltd was not a well-founded company and it did not have a business plan.
He said 3,700 people have now signed a petition calling for the site to be saved and they could turn it into a top-notch attraction within two years for £2.8m.
Sutherland Property and Legal Services Ltd, which is acting on behalf of the group, said a pre-action protocol letter had already been sent to the Conservative-led council and full judicial review papers would be served on 21 February.
A spokesman for North Somerset Council, which owns the site, said: "Until we see exactly what grounds the group intends to apply for a judicial review on it is difficult for us to comment further."
"Executive member for asset management, Cllr Tony Lake, has already said we will not be held to ransom by the group and it is worth saying that any proposed scheme for the site would be subject to the EU procurement process."
Several attempts have been made in the past to redevelop the former outdoor swimming pool which enjoyed its heyday in the 1960s but has been empty since 2000.
Mr Mead said they needed a brief from the council before drawing up a business plan, but he was still awaiting the offer of a meeting after sending six requests.
"We are not going to spend thousands drawing up detailed proposals only to have the councillors shoot them down because they are not what they had in mind", he said.
Watch more on the attempt to save the Tropicana on Inside Out (West): BBC One at 19:30 BST on Monday.