Wild Goose centre boss Alan Goddard to sleep rough for 12 nights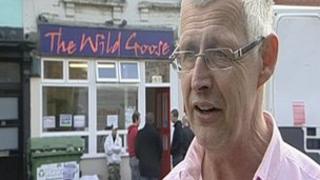 The manager of a crisis centre for homeless people in Bristol is to sleep rough for 12 nights to boost its work.
Alan Goddard, who runs the Wild Goose centre in Easton, plans to publish a book about his life with money raised from sponsorship.
As part of the challenge he will have a sleeping bag and £2 per day to live on.
Mr Goddard, a former successful businessman, spent a year on the streets after becoming an alcoholic. He has been in recovery for 12 years.
The Wild Goose centre offers 16-week courses covering life skills such as reading, writing and cooking on a budget.
'Dark areas'
"We help hundreds of people each year, but there are people who simply don't know how to come in to get themselves sorted out," said Mr Goddard.
"I want to reach those people too."
Some of his year sleeping rough was spent in and around Cardiff which is where his first two nights on Monday and Tuesday will be spent.
"If it's just for one night you know you're going home to your own bed and family so I decided to make it a reasonable amount of time," he said.
"I'll be sleeping in parks I know. It's safer in the dark areas."
After Cardiff, Mr Goddard will return to Bristol to give a talk on homelessness to a group of 16 and 17-year-olds at St Brendan's College in Brislington.
It will be his 11th school visit this year.
He then plans to travel to London for five or six nights and said he felt "nervous" about sleeping rough in the capital.
"I don't know the area or what the provisions are - whether the council help is better there than in Bristol," he said.
The challenge will come to an end on 2 March at the Pip and Jay Church in the centre of Bristol where he will be joined by about 100 others.
Mr Goddard's Facebook page will be updated each day as the challenge progresses.