Bristol's Island Site plan proposed by city council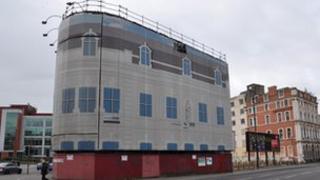 A development plan for the derelict Island Site in Bristol is expected to be approved by councillors.
The plan involves setting up a development contract where the costs of a compulsory purchase order would be paid for by a developer.
The land is owned by two private firms and the city council, but despite talks over the past 15 years, no agreement has been reached.
The Island Site, near Temple Meads, has been semi-derelict for 25 years.
'Break the logjam'
Councillor Anthony Negus said: "A resolution at the Island Site is crucial now - it is a key site in relation to the Enterprise Zone.
"Compulsory Purchase is not a tool the council can use for every circumstance, but we will use it as a last resort.
"In this case the site is in complex multiple ownership, the owners have not reached agreement over several years, and now the council is demonstrating that it needs to break the logjam."
The site is made up of the derelict George and Railway Hotel and adjoining land which is owned by Standard Commercial Property Development (SCPD).
Alongside is the Grosvenor Hotel, which is under the ownership of Earlcloud Limited, and the adjacent land is the property of Bristol City Council.
If the purchase order is approved the hope is this will enable SCPD, which owns most of the land, to secure development of the site.
The proposal will be discussed at a cabinet meeting on Thursday.