North Somerset Council votes to cut budget by £17.5m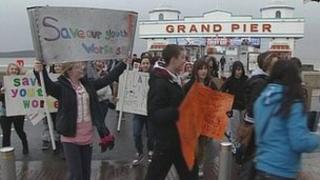 Councillors in North Somerset have voted through a budget which will lead to the equivalent of 158 job losses over the next three years.
The Conservative-run authority agreed to cut its budget by £17.5m for the next financial year, at a meeting on Tuesday.
Funding for most youth services in the county has been withdrawn.
Members of Unison joined young people outside the council offices to protest against the proposals.
Council Leader Nigel Ashton said: "We have been clear from the outset that having to make savings of over £47m by 2015 will mean the council will look, feel and operate very differently in the future.
"In addition to the funding gap of £17.5m met in the current financial year, next year we will have to make further savings of £14.4m."
The council said the deal would freeze council tax in North Somerset for a second year running.
It said the average Band D property will pay £1,146.40 for council services in 2012/13.