Boy 'threw bike on railway line' near Yate station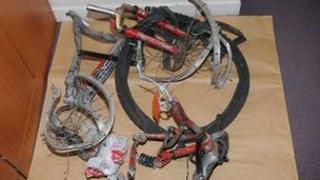 A train travelling at about 100mph (160kmph) struck a bike which had been thrown on to the tracks in South Gloucestershire.
Trains had to be diverted after the incident near Yate station on Sunday.
A British Transport Police spokesman described the incident as "mindless vandalism" and said the consequences could have been more serious.
They are trying to find a boy, aged about 15 or 16, who was wearing a grey hooded top and a grey track suit.
Witnesses at Yate station told officers they saw the teenager throw the mountain bike before cycling away on another bike.
Moments later, the Exeter to Leeds train struck the bike causing damage to its air pipes and leading to it being taken out of service.