New £1.13m MS therapy centre in Bradley Stoke opens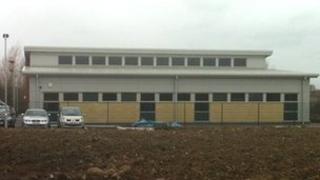 A £1.13m centre offering therapy to Multiple Sclerosis sufferers has opened near Bristol.
The charity behind the centre in Bradley Stoke has moved there from Nailsea where it has provided therapy for 25 years.
The centre will support up to 600 people and will provide treatments such as physiotherapy and reflexology.
Mike Gelder, of the Moonstone Appeal, which raised funds to build the centre, said it was a "very exciting moment".
He said: "We are very pleased to be at this point after many years of hard work raising the funds needed for the centre, planning, and building the facility which will provide so much vital support for people living with MS in this region."
The centre in Wheatfield Drive has been under construction since May last year.