'Suspicious' fire closes St Mary's Primary in Yate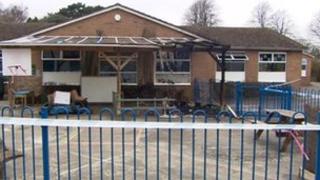 A fire at a primary school in South Gloucestershire is being treated as suspicious.
Emergency services were called to St Mary's school in Church Road, Yate, in the early hours of Friday.
An Avon Fire and Rescue Service spokesman said it was believed the fire had started outside and spread through a window into the building.
The school was closed while fire investigators and police try to discover the cause.
The spokesman said an office and a classroom had been damaged by fire and the rest of the school affected by smoke.
"The school is very close to the fire station so crews arrived within a few minutes after a passer-by reported seeing flames," the spokesman said.
"A second fire damaged a children's Wendy house and caused damage to the exterior of the building."
A statement on the school's website said it would remain closed on Monday 27 and Tuesday 28 February because of smoke damage.