Sex workers' home The Well sees funding slashed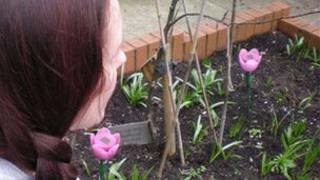 "I'd probably be dead now if it wasn't for The Well," says Emma, 36, a former drug addict and prostitute. "I felt held while I was broken and vulnerable."
Emma's story is typical. She got involved with drink and drugs when she was a teenager and then fell into prostitution to fund her habit. "I've been able to detox here. I live in my own place now and I've got my little boy back. I feel like I've got another chance at life," she said.
Others in her situation may not be so lucky. The Well has offered safety and support to 163 women leaving the sex industry in Bristol since 2003, but its future is threatened by public spending cuts.
The five-bedroomed home run by the Christian charity Alabare currently receives £150,000 per year from Bristol City Council but the authority has voted to cut the grant to £60,000.
A spokesman for Alabare said: "Whilst welcoming the approach taken by some councillors to tabling an amendment to give £60,000 to The Well, this does represent a substantial reduction in Bristol City Council funding, which is unlikely to be topped up by charitable fundraising to the level required."
Other than The Well the only option for street sex workers is to go into one of the larger hostels.
According to Jo, 31, that would be a disaster.
"I was sex abused by my dad and then by my partner who was a dealer," she said. "I'd be beaten up if he sent me out to sell drugs and I was 10 minutes late getting back. I couldn't get clean in a bigger hostel. I've been in them and people are still using and you get drawn back in. The last thing you want is to be around men when you're trying to detox."
'Feeling hopeless'
"If it's not there it'll put a lot of women at risk," she said.
From the outside the house is like any other on the quiet street in Easton. Inside on the living room walls there are photos of women having fun on days out or posing together on the sofas.
In the bright kitchen Isabelle (not her real name) is making plans to celebrate her 19th birthday.
She is pretty with fashionable clothes and lots of bracelets jangling on her wrists.
When she talks about The Well she calls it home. Until recently though she was at the mercy of her boyfriend who she said tried to strangle her. She was brought to The Well for her own protection.
"I love the staff here. It's the one place apart from my mum's house where I feel safe," she said.
"I can relax and I used to get so tense before. I wouldn't talk to anybody but now I'm really excited about my future."
"It's given me a second chance."
Living in a family atmosphere with love and support has been life-changing for Emily, 32, a former heroin and crack user.
"I was feeling hopeless because I had no residential support before. Here you feel part of the family and people like me don't have family support. The love helps you feel motivated.
"I was helped when I was raped and had to be tested for HIV and they've helped me come off drugs and seen me through some really bad times," she said.
"I had a blip last year and my son went into foster care and as soon as I moved in here they're helping me get contact with him.
"If it wasn't for The Well I wouldn't be seeing my son now.
"There's no place like it in Bristol. I have a life now thanks to The Well."
Now Alabare is to "review the service provided in the light of the funding available" and must decide whether a reduced service can meet the needs of the women.