Union's 'warning' before boy fell from school stairwell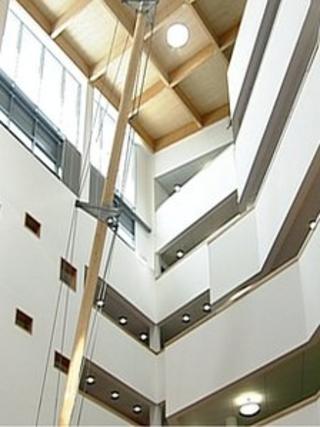 A teachers' union has said it questioned the design of a school where a 12-year-old boy fell from a fourth floor stairwell, before it opened.
Nina Franklin, of the National Union of Teachers, said the union raised concerns over Fairfield High in Bristol but was assured it was safe.
The unnamed boy remains in hospital following the accident on 24 February.
Bristol City Council said a full risk analysis was carried out as part of the building design.
Head injuries
The Liberal Democrat-controlled city council said since the school was opened in 2006 no other incidents concerning the stairwell had been reported, and it remained in use.
"The incident was reported to the Health and Safety Executive and Bristol City Council is compiling its own report into the incident," a spokeswoman said.
The victim suffered serious chest and head injuries in the fall. A full inquiry is being carried out by the police, school and Bristol City Council.
Ms Franklin, of the NUT, said: "We have every confidence that the local authority team will put the proper health and safety checks into place in order to ensure that this sort of terrible incident does not re-occur."
A statement on theschool websitesaid the student involved was talking and eating ice cream in hospital.
"He is obviously very tired but was able to chat to his head of year yesterday [Monday] and to the school police officer."
The school acknowledged there was a lot of speculation over the cause of the accident but said it would not give any further details until the investigation was complete.
"The school is safe for students and would not have allowed to be opened on Monday if it was not deemed to be so by the LA [local authority] and other agencies," it said.