Police in vicar and teacher deaths case appeal to farmers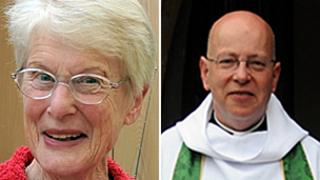 Murder police investigating the deaths of a vicar and a retired teacher have appealed for farmers to help find a rucksack and a mobile phone.
Officers want to trace the items in connection with the deaths of Betty Yates and the Reverend John Suddards.
They said a Eurohike Hydro rucksack and a BlackBerry handset may have been dropped in a barn or on farmland in the area around Eastbourne in East Sussex.
The bag is olive green and black with an orange belt clip which is a whistle.
The BlackBerry 9300 handset is purple.
A police spokesman said: "If anyone finds this bag, they are asked not to touch it but to contact the police immediately as it may need to be preserved for forensic evidence.
"If anyone knows the whereabouts of this phone or has been offered one for sale since Tuesday February 14 2012 they are asked to contact the police."
Mr Suddards, 59, was found stabbed to death in his vicarage at St Mary's Church, Thornbury, south Gloucestershire, on 14 February.
Mrs Yates, 77, was found stabbed in her cottage in Bewdley, Worcestershire, on 2 January.
Stephen Farrow, 47, appeared in court last Friday accused of the murder of Mr Suddards between February 13 and 15 and the murder of Mrs Yates between January 1 and 5.
He also faces a charge of burglary relating to a separate property in Thornbury between December 21 and January 3.
He is next due to appear at Bristol Crown Court on 9 March.