Ashton Vale stadium decision due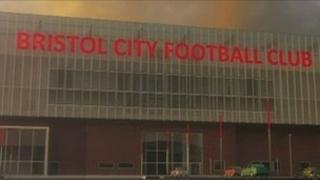 Bristol City Football Club and campaigners are expected to learn later whether the club can proceed with its plans for a new stadium at Ashton Vale.
A High Court judge is due to decide whether to lift a judicial review currently blocking the development.
Campaigners want the whole of Ashton Vale made into a town green, prohibiting its development.
The town green bid was partially turned down by the city council in 2011 paving the way for the stadium to be built.
Mr Justice Underhill is to decide whether the town green campaigners can change the name on the court papers after the first applicant unexpectedly withdrew last week.
If the judge decides to end the judicial review the club should be able to proceed with the stadium.
If he grants it, the judicial review of the council's decision to allow the stadium to be built will be held in Cardiff or London in May.