Daffodil poisoning warning to Bristol Chinese community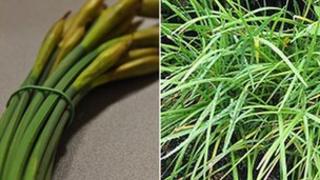 Bristol's Chinese community is being warned not to eat daffodils after several people were treated in hospital for the symptoms of poisoning.
The Health Protection Agency (HPA) said the 10 people who had eaten daffodil stalks and leaves were treated in hospital for severe vomiting.
An HPA statement said they may have mistaken the green parts of the flower for a chive used in Chinese cooking.
All affected patients have since recovered.
Notices are being delivered to supermarkets in the city by officers from environmental health and trading standards, reminding them that daffodil stalks and leaves should be displayed away from food produce and clearly labelled.
The HPA said: "Any supermarket identified has been approached and agreed to immediately install point of sale signage and product labels in English, Cantonese and Mandarin, stating that these flowers are not edible."
'Toxic daffodils'
An information leaflet warning about the dangers of eating daffodils will also be distributed to the local Chinese community.
Dr Mark Evans, from the South West health protection unit said: "Daffodils are toxic and severe vomiting and diarrhoea can occur if eaten by mistake.
"Although very unpleasant, most people will recover fully without treatment.
"We want to ensure that the Chinese community is aware how easily the daffodil stalk and unopened bud can be confused with Chinese chives and to be careful what they buy, especially at this time of the year."
Chinese chives (allium tuberosum), or garlic chives as they are also called, are a close relative of ordinary chives and can be grown by the same cultivation methods.
They are a common ingredient in Chinese cooking and are often used to make dumplings.
The HPA is working with NHS Bristol and Bristol City Council to investigate the incidents.