Solar panel map for Bristol is launched by city council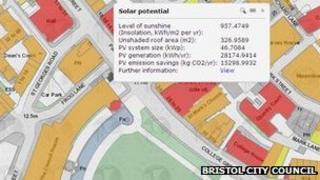 An online map showing people living in Bristol how suitable their property is for solar panels has been launched.
The map on Bristol City Council's website uses colour coding to show an estimate of each building's potential for solar generation.
The authority said it was the first of its kind "on this scale". It cost £25,000 and was funded as part of a £260,000 government grant.
It claims the map shows 80,000 of all Bristol's rooftops are suitable.
Council leader Barbara Janke said: "Anyone who lives in Bristol who is thinking about the possibility of installing solar electric or hot water panels can use this map quickly and easily to find out whether it's going to be viable for them."
The council said if all the 80,000 roofs - about one third of Bristol's rooftops - had solar panels installed they would cover an area equivalent to 600 football pitches, and could generate up to 384GWh per year of renewable energy.
Themap can be viewed on the council's website. Users are given information such as how much electricity could be generated and how big the panels would need to be.
Last month the UK governmentconfirmed plans to cut subsidies for solar panels on homes by half.