Wild Goose boss's rough sleep challenge raises £2,000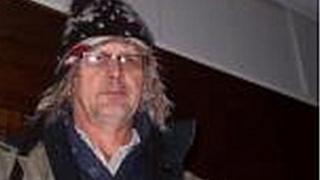 A Bristol crisis centre manager raised about £2,000 during a 12-night rough sleep challenge.
Alan Goddard, who runs the Wild Goose centre in Easton, said sleeping on the streets had been "exhausting" and at times reduced him to tears.
He will use the money to publish a book about his experiences which will be sold to fund the work of the crisis centre.
Mr Goddard, a former alcoholic, has been in recovery for 12 years.
'Uncomfortable and smelly'
The first few nights were spent in Cardiff.
"It was very difficult," he said. "I was back in the area I came from and a lot of my past jumped out at me. I was in tears as it flooded back."
Mr Goddard had been a successful businessman before becoming an alcoholic.
Before starting the sleep out he allowed his hair and beard to grow and wore old clothes to fit in with other homeless people. He also chose not to wash.
"I was uncomfortable and smelly," he said. "As I walked past a queue of people in Old Market it was like the parting of the Red Sea."
Mr Goddard spent many hours talking with homeless people in Bristol telling them about the Wild Goose centre and how it may be able to help them.
'One person'
"I met a young man who was a heroin and valium addict. Both his parents were dead from addiction but he was on track and doing really well," said Mr Goddard.
"I offered to take him to look round a rehab centre and he seemed quite excited about it. If I can help one person to get their life back I'll be delighted," he said.
Living on the streets was a different experience for Mr Goddard this time around as he was sober.
"Before days rolled together but this time I felt the cold and wet and the way people look at you," he said.
"I never thought I'd end up homeless but it happened. I want to make sure there's support for people who're ready to change," he said.